Advantages of Commercial Street Lights
Greenshine New Energy is an industry leader in developing and manufacturing top-of-the-line solar LED commercial street lights. Our team of experts provides cost-effective solar lighting solutions for a wide range of applications, delivering sustainable and high-quality solar lighting to over 5000 locations worldwide. Our products are made with the highest quality materials and are fully customizable to suit your every need.
---
Solar Powered Commercial Street Lighting
At Greenshine, we know there's no one-size-fits-all solution. Our design experts provide best-in-class commercial solar street lights tailored to your needs, regardless of industry or geographic location. 
Our solar lighting systems are cost-effective, sustainable, and reliable. Each system operates off-grid, so our solar lights continue to shine during power outages. 
In addition to our fully customizable products, our engineers have created Greenshine Connect, a Smart Bluetooth Control system that gives users greater freedom and flexibility over their lighting systems. Greenshine Connect allows you to adjust brightness settings, set various lighting programs per day, activate your device's motion detector, and more.
Additional Benefits of Greenshine's Solar Street Lights:
Durable components built to withstand extreme weather

Sustainable and renewable resource

Bluetooth Mesh Networking System can combine lights or split into smaller groups

Effective in remote locations

Reduced maintenance costs
The Best Commercial Street Lights are Solar Powered
Solar-powered street lights outperform traditional lighting systems in several key areas, including security, cost-effectiveness, and sustainability. 
Because solar lights reside off the main power grid, they can be relied on to continue to shine even when the electrical grid goes dark, providing public spaces, military facilities, and corporate campuses with better security and dependability. 
Solar-powered commercial LED street lights are more cost-effective than their traditional counterparts. Traditional lighting requires trenching and underground wiring to connect to power grids. Solar lighting is autonomous and off-grid, significantly reducing the total cost of installation. Furthermore, solar lighting harnesses power directly from the sun, cutting out the power company completely.
Solar lights improve communities by reducing pollution. Traditional street lights emit carbon dioxide and contribute to greenhouse gas buildup in the atmosphere, but solar street lights help significantly reduce these harmful pollutants. Greenshine's specially designed light fixtures also reduce commercial light pollution and are Dark Sky friendly.
Finally, solar street lights require less maintenance than traditional lights. Traditional lighting fixtures may need to be replaced every five years, but Greenshine's durable solar lighting systems are built to last. Other than occasional panel cleaning and battery replacement, solar lighting systems need very little upkeep.
Commercial Street Lights: How They Work
As a leader in solar-powered illumination technology, Greenshine offers customers the ability to customize their lighting systems to provide optimized illumination for every space.
Our solar products use only the best components to ensure your investment is reliable, long-lasting, and provides optimum lighting performance. Because we know there's no one-size-fits-all solution, you can choose from the different components we offer to design the best street lighting system for you. 
You don't need to be an expert to design your perfect solar lighting system. You can consult our designers to learn what options best suit your environment, climate, and local sunlight duration.
Photovoltaic Solar Panels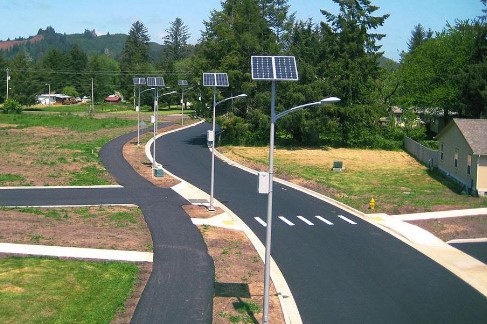 To ensure your solar lighting system is long-lasting and efficient, Greenshine uses only the highest quality monocrystalline solar panels. These panels are cut from a single source of silicon and generate more energy in smaller, less sunlit areas than their polycrystalline counterparts. 
Each panel is equipped with a durable aluminum frame designed to withstand strong winds. The solar cells are protected by highly resistant tempered glass and multilayer EVA encapsulation with a triple-layer back sheet. 
Every Greenshine solar panel has a 25-year power output warranty (5 years/95%, 12 years/90%, 25 years/80%). 
How do our solar panels work? 
Greenshine's solar panels are made with high-quality monocrystalline silicon ingots. These ingots have been formed in lab conditions and put through a process called "doping" to give them electrosensitive properties. The ingots are then set into an array before being mounted on a panel and ready for use. 
The solar panels then absorb photons from the sun's rays, which loosens an electron in the solar panel's band gap. The electrons travel through the panel's wiring into the battery, where they are stored as energy. Eventually, this energy powers the system's LED light fixture and generates light.
Benefits of Greenshine Solar Panels:
Long lifespan (25 years)

High efficiency

Suitable panel sizing for commercial projects

Performs well in areas with less sunlight and limited space

Better heat tolerance makes them ideal for areas with extreme heat
Solar Street Light Batteries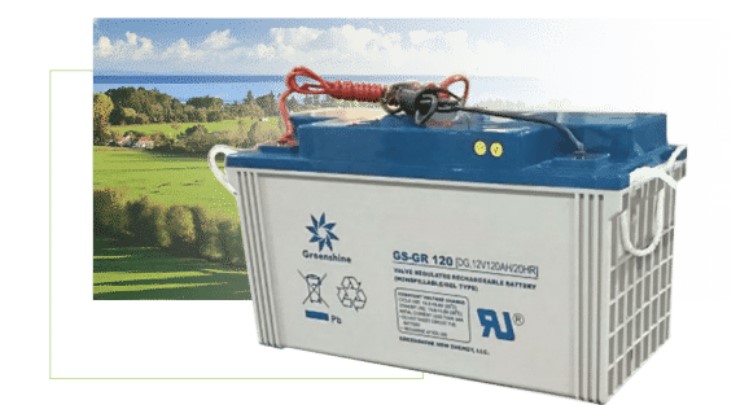 Every Greenshine solar light system is equipped with a GEL deep-cycle battery designed to withstand frequent cyclic discharge under extreme temperatures. These batteries are not only cost-effective but require very little maintenance and have a battery life of 5 to 7 years. 
We generally mount your solar battery at 13' on the steel pole to protect them from theft or vandalism. These batteries can also be buried underground or mounted inside the lighting system.
How do GEL batteries work? 
Solar GEL batteries, a type of lead-acid battery, contain silica in their electrolyte mixture, making the substance more gel-like. This gel-like consistency allows the battery to store more power than a standard lead-acid battery.
GEL batteries are sealed, which means their water levels don't need to be monitored and they don't emit fumes. Because of this, GEL batteries are considered safer than standard lead-acid batteries and require little to no maintenance. 
Benefits of a GEL Deep-Cycle Battery:5 – 7 year battery life
Can withstand extreme hot or cold temperatures

Cost-per-watt hours are cheap, significantly reducing the price of solar power

Requires little to no maintenance

Heavy-vibration and impact resistant
​
FEATURES INCLUDE:

Greenshine offers many solar LED light fixture options, including several modern and sleek designs that seamlessly blend into any commercial or residential area. Our LED lights are available in various lumen packages to create the best lighting for your space. 



| | | |
| --- | --- | --- |
| Solar powered LED street light pole featuring a 60-80 watt cobra head style LED fixture with 2 solar panels.​​ | Solar powered street light pole featuring a 20-40 watt cobra head style LED fixture with one solar panel.​​ | A decorative design with the most advanced LED lamp (CREE XPG-3) on the market, ranging from 30-80 watt.​​ |
LED Street Light Fixtures
Benefits of Greenshine's LED Street Light Fixtures:
Dark Sky Friendly
Made from durable, die-cast aluminum
Available in different lumen options
Lighting options can be controlled via Bluetooth
Installed at a 0-degree tilt to reduce light pollution
Commercial Light Poles
Greenshine offers seven different commercial light poles, including decorative options and custom colors. Each commercial lamp post is constructed with durable, galvanized steel to ensure your lighting system can withstand any type of weather. Our light poles can be powder coated to protect against rust and aging.
Our commercial light poles can hold up to four solar panels to maximize the efficiency of your system. At the top of the light pole, we use a tenon to attach the panels and tilt them to the optimal angle for your geographic location. 
These light poles can be equipped with up to two boxes, each holding two GEL deep-cycle batteries, to provide your system with four times the power.
Our lighting systems come with pre-drilled holes to ensure quick and easy installation. Unlike other solar light companies, we provide a metal template to help you place the bolts properly and get your systems up and running smoothly.
Choose Commercial Street Lights from Greenshine
Greenshine's team of design experts has 30 years of experience in the lighting industry, developing top-of-the-line commercial street lights for industrial, commercial, and government use. Our attentive sales team and talented designers will work with you at every step to ensure you have the best system for any situation.
Schedule a consultation with our experts today to learn what solar lighting system best suits you.
---
Commercial Street Lights with Solar LED Lights
General neighborhood lighting
Lighting Control Solutions
Parking lot lighting
LED Roadway Lighting
​LED Perimeter and Security Lighting
LED Street Lighting