Commercial Solar Lamp Posts
The best commercial solar lamp posts aren't designed as a one-size-fits-all solution. At Greenshine, we are committed to utilizing only the best components in our custom outdoor lighting solutions. So how do we tailor these solar post lamps to our customers' unique outdoor spaces?
Greenshine New Energy is trusted by military facilities, airports, industrial campuses, and a variety of industries too long to completely list in just one blog. With over 30 years of experience in the commercial solar lighting industry, we continue to provide the best commercial and cutting-edge solar lamp posts and technology on the market.
What Is the Best Solar Lamp Post?
While this might seem like a loaded question, there are a few key options to consider when shopping for the best solar lamp post on the market!
1. Monocrystalline Solar Panels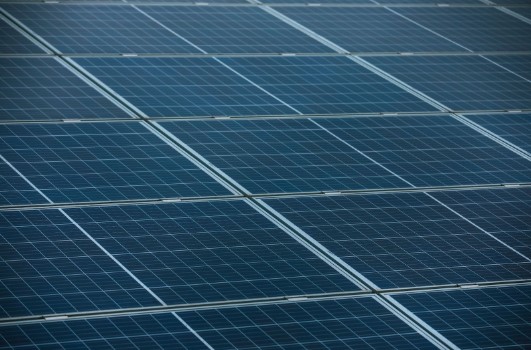 Monocrystalline solar panels


Greenshine New Energy only uses top-of-the-line monocrystalline photovoltaic solar panels. Each panel is cut from a single silicon source, unlike polycrystalline solar panels which are less efficient and require more direct sunlight.
Monocrystalline solar panels, however, generate more energy regardless of the quality or frequency of direct sunlight, which makes them perfect for smaller areas exposed to less sunlight. A small monocrystalline solar panel can also generate a large amount of energy, so your solar lighting system can take up less space without compromising energy output.
2. CREE LED Lights
The CREE XPG-2 LED light is one of the most efficient LEDs on the market while also being highly durable with some of the longest life spans of any LED light. This allows them to be installed and used for years without the need of replacement. Since some solar lighting systems are high off the ground or in remote locations, it's important to consider how often a light bulb may need to be changed.
And CREE lights are always mercury-free and safe for the environment.
3. Custom-built
When a pre-built solar lighting system does not perfectly suit your geographic location, climate, or outdoor space, it can be more difficult to illuminate a given area without the need for compromise.
When you invest in a custom-built solar lighting system, you know everything that makes your location unique will be carefully considered in the design of your system. Everything from solar-panel tilt to battery placement and more should work for you — not the other way around. Lighting systems designed for a particular space are also longer lasting and more efficient than their pre-built counterparts.
---
The Best Solar Lamp Post
If you're searching for a top-of-the-line solar lamp post that marries energy efficiency with style, look no further than Greenshine's Classica series.
The Classica's traditional-retro design is the perfect addition to any community park, trail, or sidewalk. Whether you want a lighting system that easily fades into the background or complements your outdoor space, Classica's sleek appearance is sure to please.
With a lamp post made from galvanized steel, the Classica also easily withstands extreme weather. Its solar panel mounts can withstand up to 145 mph winds and be reinforced up to 185 mph, depending on your location and unique needs. Additionally, a die-cast aluminum finish prevents your outdoor light pole from rusting, so even 10 years after installation, your system will look its best.
The Classica's unique design allows its solar panels to be mounted on the sides of the light pole, circumventing the traditional overhead solar panel mount. Its monocrystalline photovoltaic solar panels are the highest quality available and have the best efficiency rating, so even small panels can absorb and generate a lot of power.
Benefits of Greenshine's Classica Lighting System:
A timeless design perfect for any outdoor space

Dimmable light options, flexible programming settings with the Greenshine Connect app

Each lighting system is designed for your unique space and needs

Features LED Turtle-Friendly Lighting
How Bright Are Solar Light Posts?
The best solar light posts offer about 3000 lumens of brightness. To better imagine this, think of each lumen as one candle. 3,000 candles per light post is powerful, bright light.
Greenshine New Energy uses the CREE XPG-2 LED light, the most advanced LED available, with a luminaire efficiency above 90 lumens/watts.
Why LED Lights?
LED lights are the most energy-efficient lighting technology on the market. LEDs, or light-emitting diodes, require very little electricity to generate a lot of light. By contrast, incandescent lights lose about 90% of their energy by producing heat. Because LED lights generate very little heat, almost no energy is wasted when illuminating a space. This helpful feature also makes them a natural pairing with energy-saving solar panels.
LED lights also last longer, which makes them useful for rarely changed and hard-to-reach fixtures. Whether that means your lighting fixture is high up or located in a remote area, you can install an LED light and not worry about changing it for years to come, possibly even decades. The average LED light can last up to 22 years if used for 12 hours per day.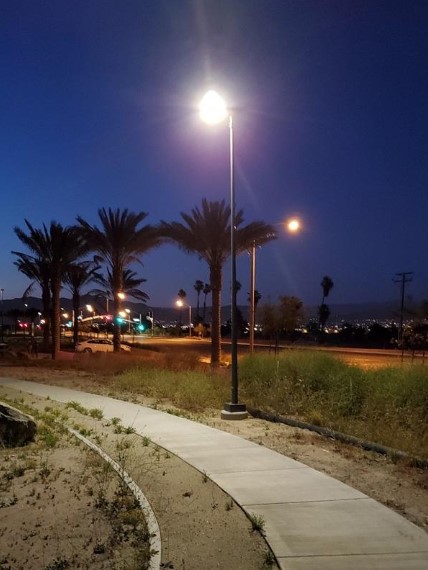 Solar LED lights provide powerful, bright light

​
FEATURES INCLUDE:

Outdoor solar pathway light featuring an integrated solar panel on top and 360 degree downward light disbursement.​
How Long Do Solar Lamp Post Lights Last?
The combination of solar panels and LED lights means your Greenshine solar lighting system is built to last. Once installed, the average LED light provides between 50,000 and 100,000 hours of light, which can last up to 22 years. Well-maintained solar panels also age well, lasting upwards of 20 years and losing only 20% of their power generation over that period.
Because we're confident in our top-of-the-line products, every Greenshine solar light post includes a 20-year warranty on the solar panel and a 5-year warranty on most components.
Quality Components, Less Maintenance
We build our solar lamp post lights to require as little maintenance as possible. Everything from the GEL battery and the LED lights to the die-cast aluminum finish, your lighting system is designed to last and age well.
GEL-Deep Cycle Battery
Each solar powered lamp post is equipped with a GEL battery. With an average lifespan of between five to seven years, these batteries require little to no maintenance and can be mounted on the light post or buried underground to protect from vandalism.
Gel batteries have a greater vibration resistance and are leak-proof, which is why they are generally referred to as maintenance-free batteries.
Solar Panels
Solar panels need little to no maintenance over their lifespan, but they should be cleaned and inspected annually to prolong their life.
Customizable Lighting Technology
3,000 lumens is bright, but not every occasion or space calls for such powerful illumination. That's where Greenshine Connect comes in.
Greenshine Connect puts total control in the user's hands. Long gone are the days of a "sunup to sundown" lighting schedule — now, you can adjust your lighting system at will. Greenshine Connect uses Mesh Networking and Bluetooth Technology to interlink or separates your lighting systems and control their brightness through an app on your phone or tablet.
Greenshine Connect also lets you activate your system's motion detection, so you can adjust settings for severe weather, monitor your system's overall health, and more!
Where To Buy Solar Post Lamps?
Greenshine New Energy is an industry-leading provider of customized and cost-effective solar lighting solutions for a wide range of applications and industries. Instead of forcing you to choose a one-size-fits-all solution our design experts will consider how we can optimize our solar lighting systems to suit your geographic location, industry, and illumination needs.
Our solar lighting systems have been installed in over 5,000 locations worldwide. Our experts are passionate about providing green, energy-efficient lighting solutions and will help you build your concept into a concrete system.
Interested in a solar lighting system tailored for your specific location and unique needs? Contact us today and get your own custom lighting system quote!
---